Page 1 newsletter

Page 2 newsletter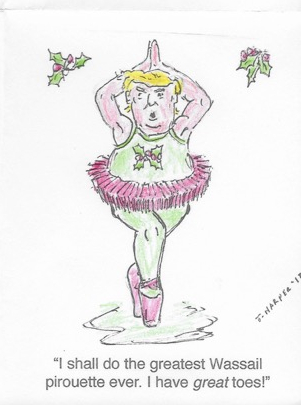 Here's your invitation to the Forty-Sixth Wassail of the
Unitarian Universalist United Fellowship
Saturday, December 22, 2018
8:00 PM
It had been a miserable year. The news was full of lies and outright buffoonery. The election was over, but still the atmosphere was oppressive. Even the cats sensed the discomfort in the air.
Then, OH JOY, it was time for THE WASSAIL.
Maybe there was still good cheer to be had.
Maybe gathering with friends for an ancient Yule celebration would lift the spirits.
Maybe the Leader of the Free World actually would do a spectacular pirouette.
IT COULD HAPPEN!
Strap on your best ballet slippers and grand jeté on down.
Bring a friend (and your favorite holiday treat to share).
5721 Central Avenue
St Petersburg, FL 33710
Questions? uuunited@earthlink.net
If Lost – (727) 344-5407